International Symposium Functional Biointerfaces - 100th Anniversary of Georg Manecke - Oct. 4-5, 2016
News from Jun 14, 2016
The international symposium on "Functional Biointerfaces" takes place October 4-5, 2016, at the Freie Universität Berlin, Germany. One highlight of the international symposium will be the award ceremony for the Georg-Manecke-Award 2016, awarded by the GDCh for young researchers, honoring the 100th birthday of Georg Manecke (1916-1990) at his work place, the Freie Universität Berlin (1964-1984).

The symposium is organized by the interdisciplinary Focus Area Nanoscale Functional Materials (NanoScale) and the Collaborative Research Center "Multivalency" (CRC 765) with a focus on functional biointerfaces and biointerface processes.

The symposium covers three major research aspects from chemical biology, including:
Development of novel bioorthogonal strategies as well as the synthesis of multifunctional architectures and their spatial organisation.
Investigation of artificial extracellular matrix and their interaction with biological objects, such as cells or pathogens.
New methods for the physical and theoretical analysis and description of selected biointerface processes.
Program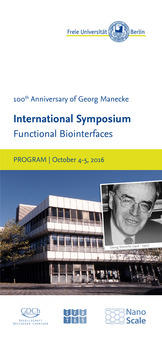 TUESDAY, OCTOBER 04, 2016
8:30           REGISTRATION
9:00           OPENING
Prof. Rainer Haag (Focus Area NanoScale, Freie Universität Berlin)
9:10           New Detection Methods at Biointerfaces
Frederik Höök | Chalmers University, Gothenburg, SE
9:55           Multivalent Virus Inhibition with Functional Biointerfaces
Andreas Herrmann | Humboldt-Universität Berlin
10:40         COFFEE BREAK
11:00         Probing Biointerfaces by Functionalized Plasmonic Nanostructures
Qiuming Yu | University of Washington, Seattle, USA
11:45         Mechanotransduction by Engineered Extracellular Matrices
Britta Trappmann | Max-Planck-Institut für molekulare Biomedizin, Münster
12:05         6 SPEED LECTURES from selected posters
12:45         LUNCH BUFFET & POSTER PRESENTATION
14:15         Cell Sheet Engineering and Thermoresponsive Surfaces
Teruo Okano | Tokyo Women's Medical University, JP
15:00         Functional Thermoresponsive Surfaces
Jürgen Rühe | IMTEK, Albert-Ludwigs-Universität Freiburg
15:45         COFFEE BREAK & POSTER PRESENTATION
17:15         From Polymeric Coatings to Cell Culture Applications
Marie Weinhart | Freie Universität Berlin
18:00         Artificial Extracellular Matrix
Carsten Werner | Max-Bergmann Center, TU Dresden

WEDNESDAY, OCTOBER 05, 2016
8:30           Zwitterionic Surfaces to Prevent Biofouling
Shaoyi Jiang | University of Washington, Seattle, USA
9:15           Blood and Pathogen Interactions of Biomaterials
Jay Kitzhakkedathu | University of British Columbia, Vancouver, CA
10:00         COFFEE BREAK & POSTER PRESENTATION
10:30         Photoresponsive Biosurfaces
Aránzazu del Campo | Leibniz INM, Saarbrücken
11:30         Simulation Approaches to Interacting Surface in Water      
Roland Netz | Freie Universität Berlin
12:15         LUNCH BUFFET (ZIB) & POSTER PRESENTATION
13:30         Mucins as Lubricants on Artificial and Biological Surfaces
Oliver Lieleg | Technische Universität München
13:50         Bone Marrow-Mimicking Soft Hydrogels for Stem Cell Delivery
Qiang Wei | Max-Planck Institut für intelligente Systeme, Stuttgart
14:10         4 SPEED LECTURES from selected posters
14:30         COFFEE BREAK & POSTER PRESENTATION
100th Anniversary of Georg Manecke (1916-1990)
Award Ceremony for the Georg-Manecke-Preis 2016
Awarded by the German Chemical Society for Young Researchers
15:00         Welcome by Prof. Katharina Landfester
Member of the Georg-Manecke-Preis Committee
15:05         Achievements and Footprints of Georg Manecke
Prof. Oskar Nuyken and Prof. Rainer Haag
15:25         Laudatio for the Awardee and Award Ceremony
15:35         Lecture of the Awardee
16:00         Biomimetic Polymeric Materials
Rolf Mülhaupt | Albert-Ludwigs-Universität Freiburg
16:45         POSTER PRIZES & CLOSING REMARKS (Prof. Rainer Haag)
See also: http://www.sfb765.de/news/International-Symposium-Functional-Biointerfaces.html